Sewing is a great hobby and it's very fulfilling to be able to make your clothes, table runners, or a gift even. Even when you're a beginner you can make some great, sustainable projects made from and with natural sewing materials. I want to give you an overview of must-have items like cotton threads, and friendly fabrics, and why you want to go for all-natural materials.
What you need
I take it that you already own a sewing machine. If not, I highly recommend you stick to well-known brands like Husqvarna, Brother, Pfaff, Babylock, and the like. I own a Husqvarna sewing machine and serger and they serve me well. The reason you want to stick with the well-known brands is they are reparable and often replacement parts remain available for years after purchase.
My first sewing machine was a very cheap one. And, apart from its not-so-great sewing properties, not long after I used it, the stitch selection knob broke off. An essential part that couldn't be repaired. So, that one had to go.
It's way better to invest in a good, second-hand sewing machine from a well-known brand than starting with a cheap machine that won't sew as well and probably has to go in a few months or years at most.
Now that we've tackled that, let's move on to the smaller essential natural sewing materials.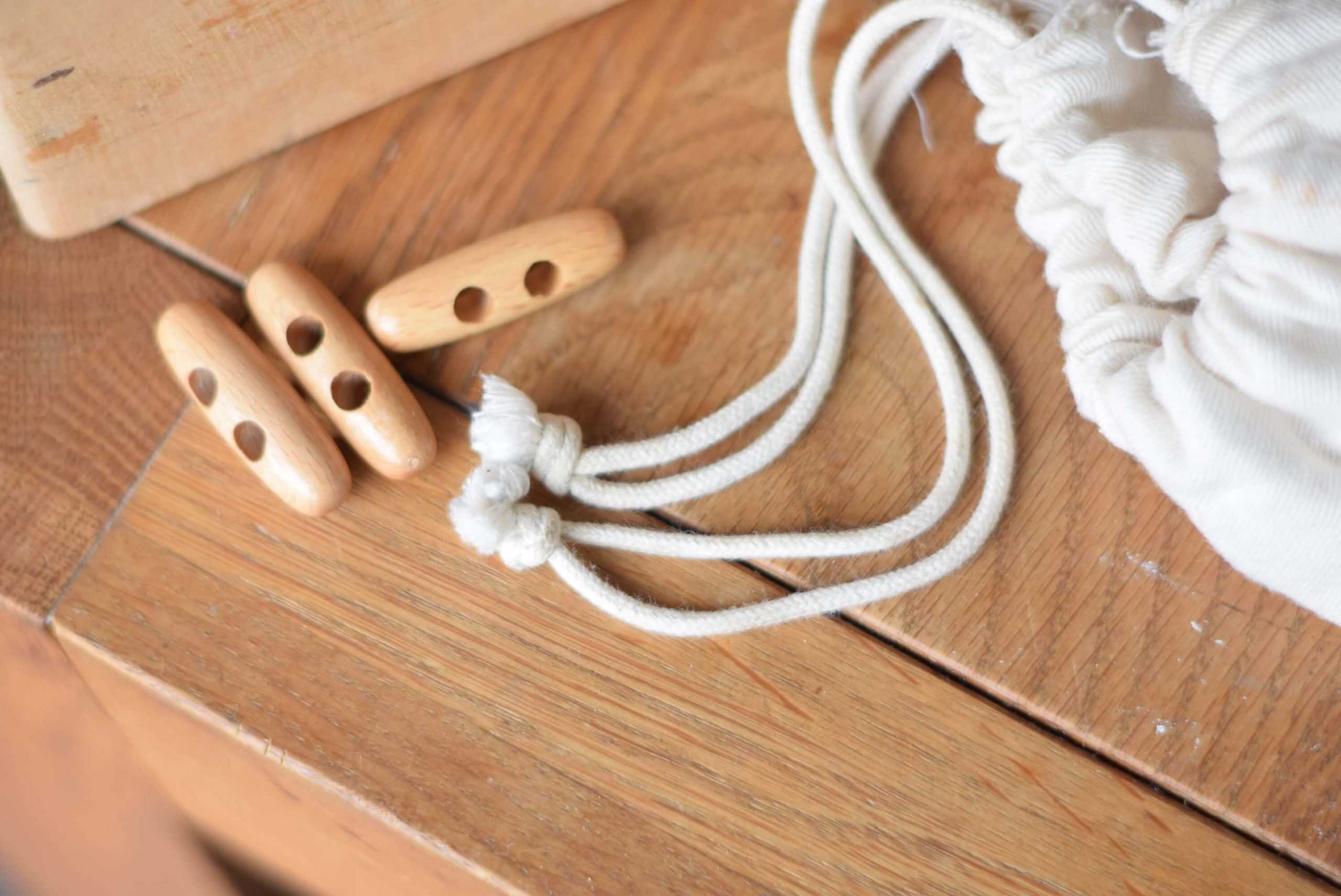 Needles
Needles come in different shapes and sizes. Your sewing machine manual will give you instructions on which ones to use. Needles have different numbers and points. Usually, they have a number anywhere from 70-100, where 70 is for more fine/ thin fabrics and 100 for heavier fabrics like denim.
The two types you'll use in the beginning are all-purpose needles. That's used for woven fabrics.
You'll need a jersey/ ballpoint needle for stretchy fabrics. It has a rounded tip.
You must use the right needle, otherwise, you could damage your sewing machine by breaking the needle or you could damage the fabric by using a needle unsuitable for the fabric.
Sewing machine needles are always made of steel, so you can't go wrong in choosing "natural" here.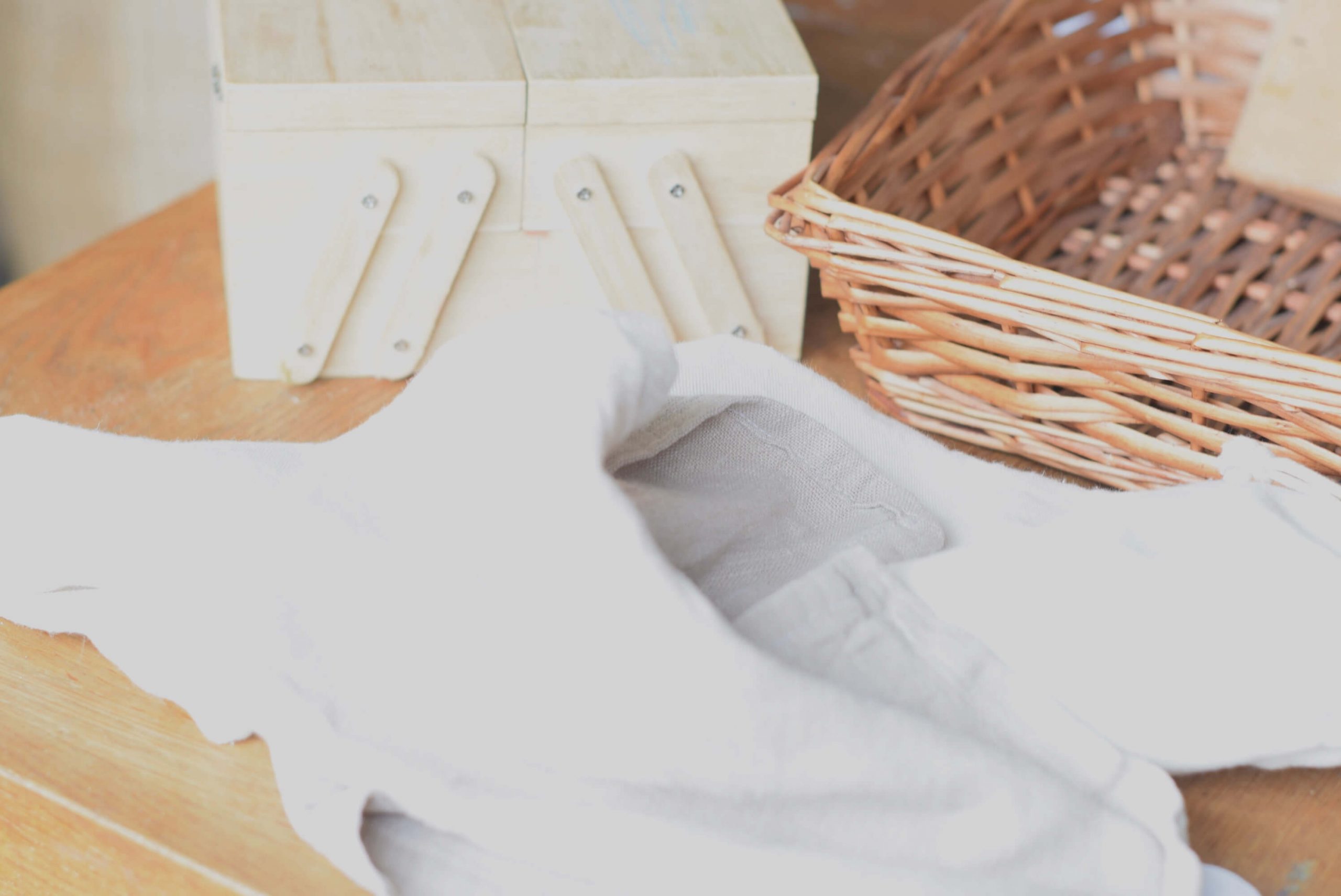 Synthetic vs natural fabrics
A rough distinction in natural fabrics can be made by distinguishing between fabrics made from natural material and synthetic material. When visiting the fabric store you can choose from a wealth of fabrics.
For example, fabrics made from natural sources are linen, cotton, wool, hemp fabric, and silk.
These fabrics all have very specific properties that you will not find in synthetic fabrics in this capacity. Cotton is probably the most common natural fiber.
Wool & linen
For example, linen is very strong and also very durable. The entire plant is used in the production of linen and its production requires little water.
Wool is one of my absolute favorite natural products and has fantastic temperature-regulating qualities.
Natural fabrics are renewable and also very important, projects made from natural materials can be repaired in many cases. That makes them the most sustainable fabrics to choose from. I must say that not all fabrics made from natural materials have a sustainable production process.
Organic fabrics are usually produced in a more "clean" way, using less water for instance. It's always best to go for natural textiles most locally produced.
Synthetic fabrics are basically just plastic. Nylon, polyester, and acrylic are all sorts of plastic. They need various chemicals to go from plastic to fabric. If you ask me, this is a good reason to stay away from them. Also, they miss so many of the properties that can be found in natural fabrics.
So, why natural?
Synthetic fabrics are mostly used for sportswear, water-repellent uses, etc. They dry fast and are light. However, hemp fabric for instance is light as well. And, though it may not be the first type of fabric that comes to mind, wool would be a great base layer for playing sports! It can absorb a lot of sweat without you getting cold. A tightly woven 100% cotton for your outdoor pillows will be a great water-repeller.
Be prepared and plan ahead for the coming gardening season.
Click the image to go to the garden planner
Natural fabrics
Synthetic fabrics are everywhere, it's sometimes even just plain hard to find something in a natural fabric. I want to encourage you to examine the use of your next project and see if you can make it all natural. You'll be likely to find a natural fabric that will be a great fit. You'll be able to replace or repair it later and know that you made a sustainable choice.
A great way to wear the most comfortable clothes is for garments to wear layers. A wool and silk base layer with a linen underskirt is great to wear under a cotton dress. Or, how about a beautiful one made of linen fabric with a wool or cotton vest on top? Like the old-fashioned way really… :) Maybe our ancestors knew what they were doing after all.
Thread
When you've found a new project to make and you've chosen a fabric of your liking it's time to look at the thread. First of all, you want to choose a thread that matches your fabric. The best way to see if they match is to unwind the thread a little and lay it on the fabric. The best match is the thread that's almost invisible on the fabric.
When you order your fabric online I recommend you buy your thread from the same store since you can ask them to add matching thread.
The most commonly used thread is an all-purpose thread. It's a strong synthetic thread made from polyester. It's a synthetic fiber. This type of sewing machine thread is strong and available in a lot of colors, but it cannot withstand a lot of heat.
Cotton thread is made from cotton, it's not as strong as polyester thread but can withstand high temperatures. It's a natural fiber and therefore great for sewing natural fibers.
Silk is also available and is both strong and can withstand heat. This one is great for advanced seamstresses and can be used on silk fibres. But, it's also a lot more expensive and not recommended for beginner seamstresses.
Lastly, linen thread is available but this type of thread is not suitable for the sewing machine. It's a super strong thread and works great for tufting pillows and mattresses.
All in all, it's best to have the same thread as the material is made from. For example a cotton thread for cotton fabric. At least, for all natural fabrics, I recommend using a natural thread like cotton. The problem with using different types of thread and fabrics is that one is stronger than the other. Which in turn might rip your seams sooner than you want.
The last tip for you… Sewing your garments, pillows, and other hand-made items is rewarding and just enjoyable to do. If your, let's say, dress, had its best time. A great way to lengthen its lifespan is by dyeing the garment. That is possible if you used natural fabrics like 100% cotton, you can't do that with synthetic fibers. However, if you've used a polyester thread, be aware that this thread is not dyeable. That means you'll end up with a dyed garment… Except for the threads…
Unzipping the button box
As for buttons and zippers, it's pretty easy to find the most natural materials. Metal zippers are readily available and buttons come in all sizes and shapes. Buttons can be made of wood, shells, coconut, and of course, snappers made of metal. Plastic buttons are just not necessary. They're usually produced in a faraway country for a not-so-great salary, and once they're no longer used they can't be made into something else, since most plastic isn't recycled. Lastly, plastic buttons and zippers can't withstand high temperatures which can cause irreparable problems when ironing.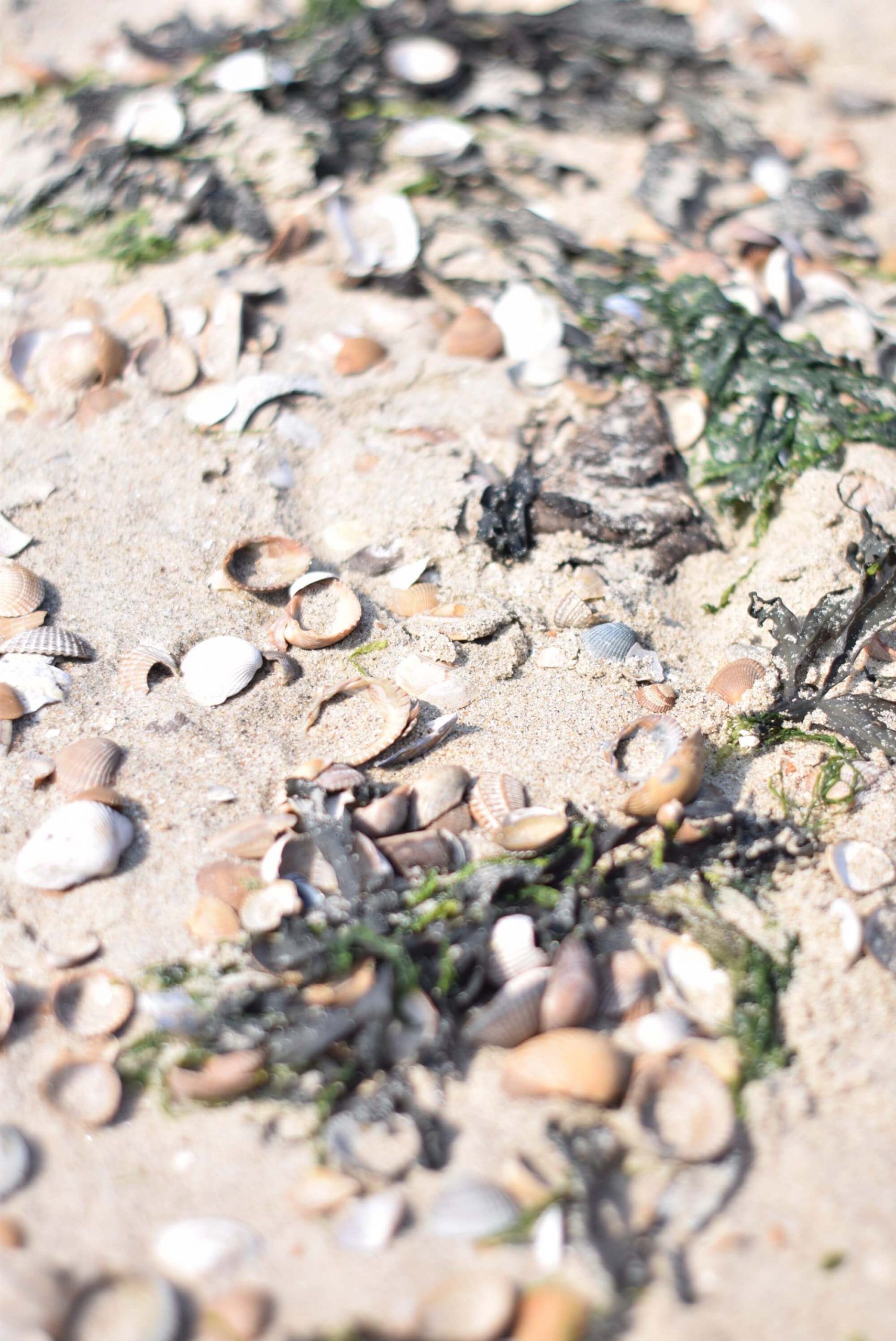 Subscribe to the newsletter and receive more inspiration on simple living.
You can unsubscribe any time
Benefits of natural sewing materials
But those other types of fabrics and tapes are so way more affordable!? Yes, synthetic fabrics or blend fabrics are more affordable. That goes for plastic buttons and such.
Overall we need to ask ourselves where our standard is. There's a wide availability of natural and sustainable materials, sometimes for a higher price. But maybe they will do the job and they might even be of an (equally) high quality. Instead of buying ten synthetic items, we can buy two natural ones, that we'll actually use and serve us well. Often they're reparable, produced in a better way, renewable and… natural.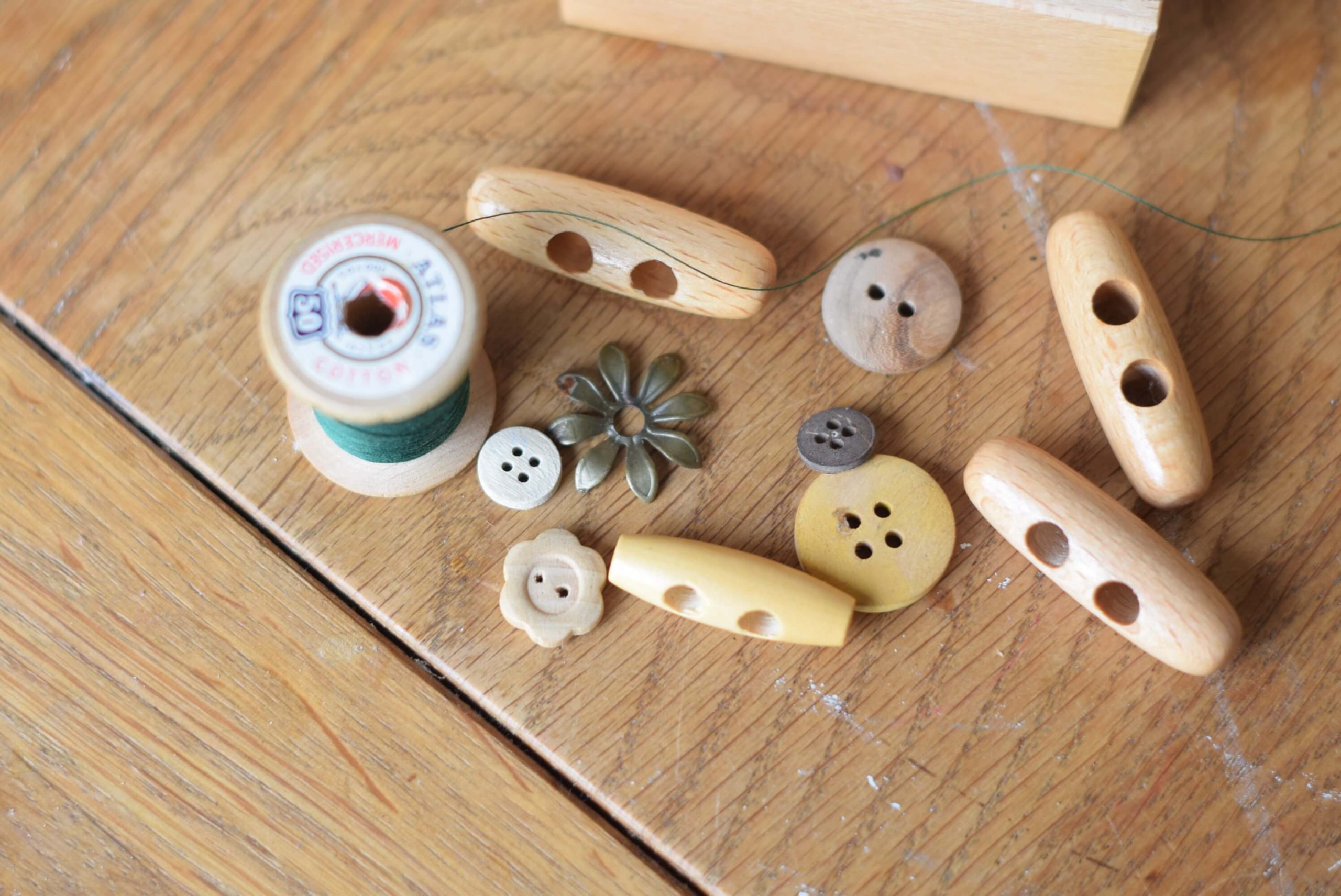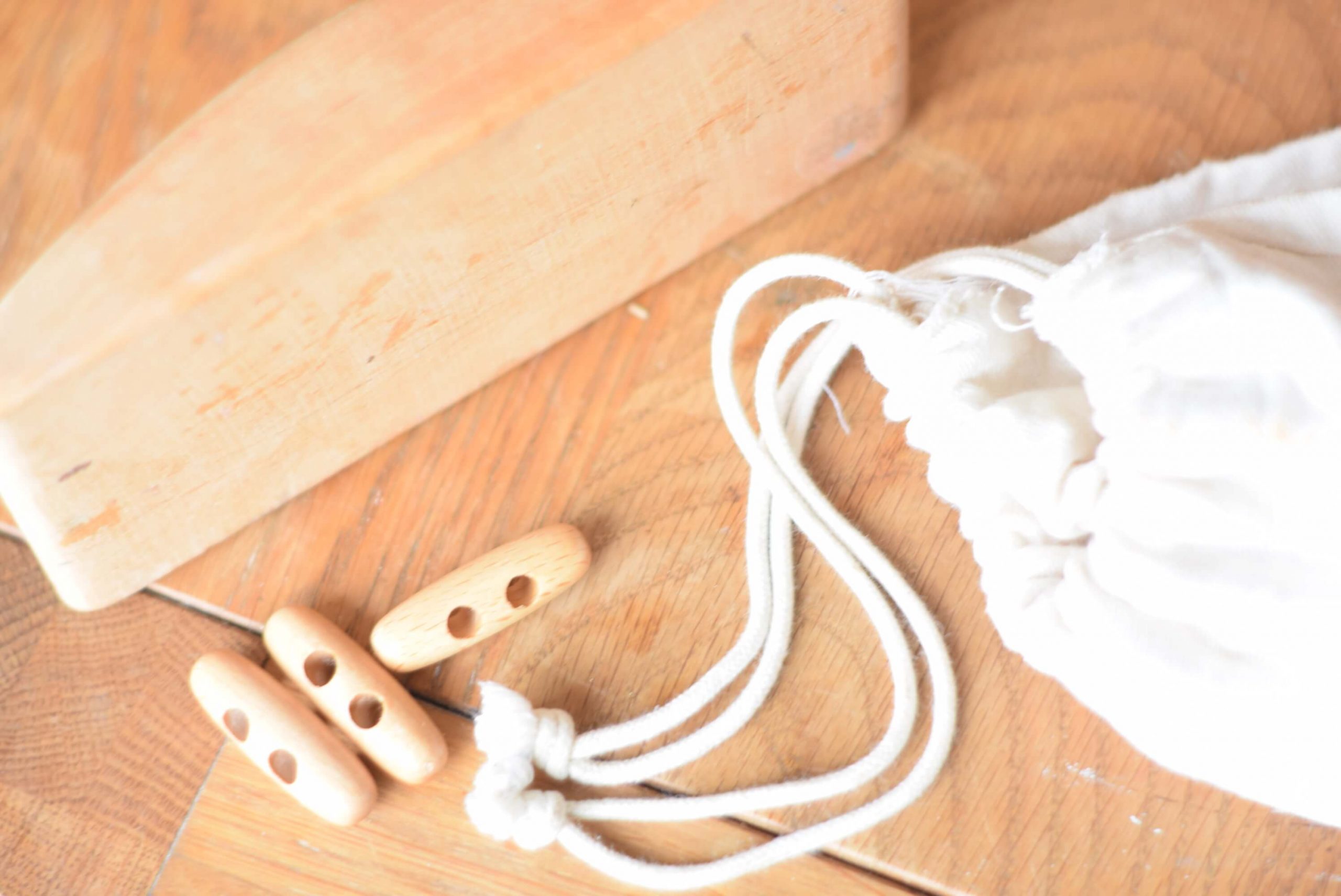 List of natural sewing materials
For all-natural sewing notions or haberdasheries, Charle is a great stop! Their elastic is made from cotton and rubber, they sell organic cords and tapes. A great shop for your natural sewing materials. I'm not affiliated with them, it's just one of those shops I know of, but that is hard to find.
Fabrics made of (organic) cotton, linen, wool, silk, etc.

Cotton sewing thread

Linen thread for hand-sewing

Wooden buttons

Metal snaps

Metal zippers

Elastic made of rubber and cotton

Cotton cord and tape

Labels made of cotton or leather