DIY Wool spray
This diy wool lanolin spray is super easy to make. It will help retain all of the great properties wool has. It will keep your wool clothes supply and fresh. You can add essential oils to give the spray a nice scent as well.
Why wear wool clothes?
Wool has some amazing properties that hardly any other type of fabric can beat. It has amazing insulating properties. Namely, it will keep you warm in winter and cool on warm summer days. It can absorp moisture up to 30% of it's own weight without loosing any of its insulating properties.
Isn't wool prickly?
No, wool fabric that's made and treated well is not prickly at all. You can make wool softer by spraying it with a wool replenishing spray on a regular basis.
Why should I use this diy wool lanolin spray?
Wool contains the natural fat lanolin, the wool fat. That gives wool one of its great properties of being somewhat water resistant and it makes it soft. Over time, when you wear your woolies, this lanolin will become less, it will wear of. To keep the wool supple and retain its great properties you'll need to maintain the wool by sprayin it with a lanolin wool spray every now and then. And this diy wool lanolin spray will make that very easy :)
Necessary supplies
For your diy wool lanolin spray you'll need the following:
1 spray bottle

1 tsp Lanolin

2 tbsp Detergent for wool clothes

approx.. 1/4 c.(Filtered) water

Optional: Essential oils

A type of double boiler [that can be a small saucepan with a melting pan like I used. Or place a (heat resistant) bowl over a small saucepan.]
Some important notes
Make sure you have all your ingredients on hand. It's important you use a detergent that's specifically suitable for wool fabric or your woolies will be terribly unhappy after spraying. You need the detergent for the lanolin to mix with the water and optional essential oils.

If it's taking longer for the lanolin to melt, keep an eye on the amount of water that's in the saucepan or double boiler (from now I'll just call it a saucepan…), you don't want to burn the pan.

In case the detergent you use already has a scent, I would advice you not to add the essential oils. If you want to make your own scent using essential oils, than it's better to use an unscented detergent.
Let's do this
Fill your saucepan with about an 1 to 2 inches of water. Place your small saucepan on medium heat.
Add the lanolin to the melting pan and heat untill melted.
Once the lanolin is melted, add the detergent. Still gently to mix.
Add the water and still gently untill all is mixed.
You can now add the optional essential oils.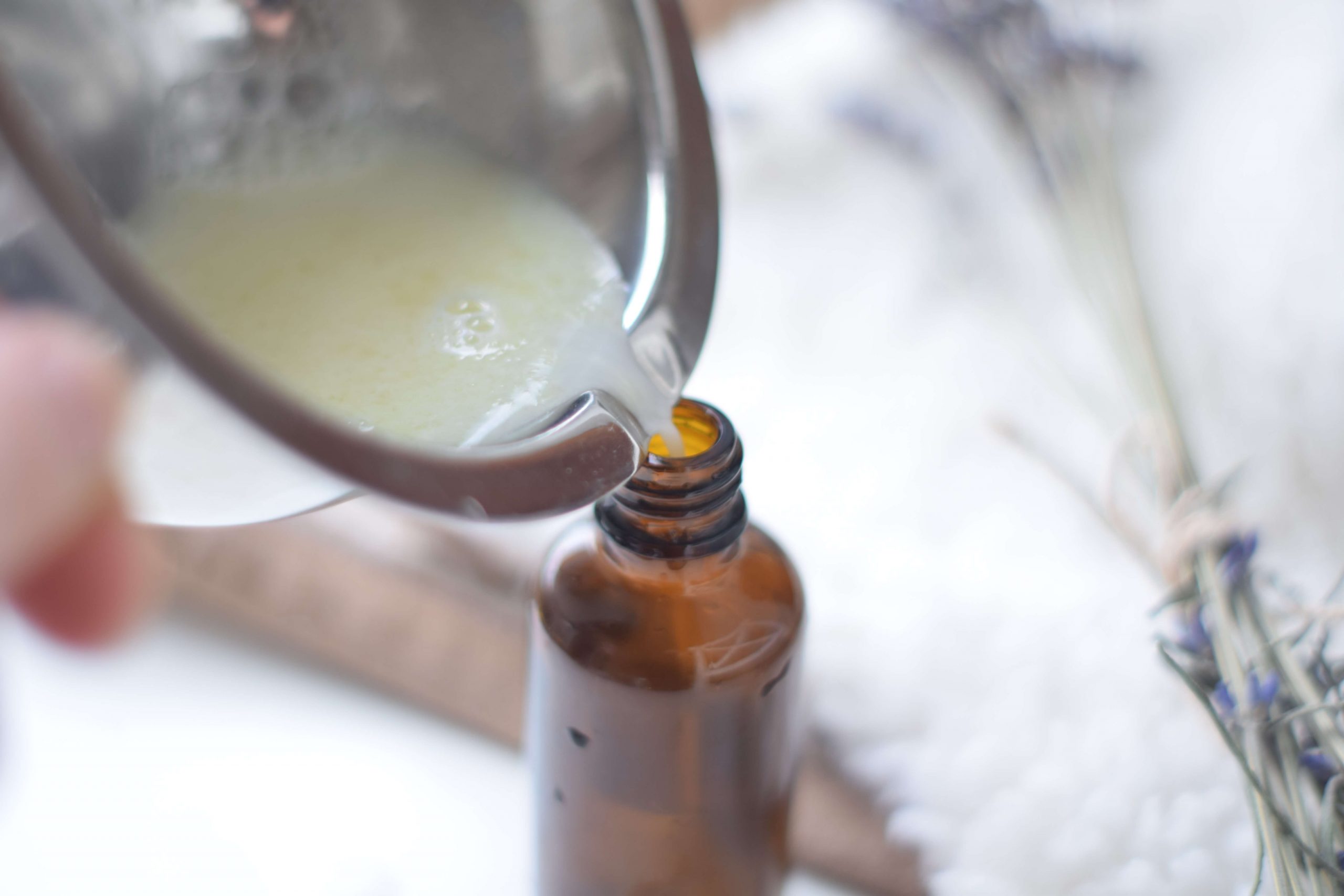 Pour the mixture into the bottle and shake well & you're all done!
It's important to shake well before each use.
How to use the wool spray
You can use the spray anytime your wool starts feeling hard and stiff. Also, if you wan't to add a fresh scent to the wool, spray as needed.
Either use the spray on wet or dry wool. Preferably, when clean.
Gently massage the spray into the wool after spraying.
Enjoy your woolies!